It's Official
Every few decades the Lord sees fit to bless us with a special lead dog… one that children pin their hopes figuratively, and sometimes literally, to a lead dog that is the embodiment of that indomitable sprit that inspires all of us. Tonight the City of Kennesaw's Mayor and Council voted unanimously to recognize just such a lead dog, "Fisher King," the lead dog of Georgia's only Iditarod Finisher, Bill Borden. In a project spearheaded by Councilman Bruce Jenkins, the City of Kennesaw has named the walking trail around the city's new dog park the "Fisher King Iditarod Lead Dog Memorial Trail"
Fisher King was a true canine athlete in every sense of the word. Born in the 20th century, Fisher bridged the gap to the modern world of the 21st century in more ways than one. Fisher King was an Alaskan Husky, born of a sled dog, however his breeding was a unique blend of the historic Kottke wolf line, the ever wise village dogs of the Yukon, and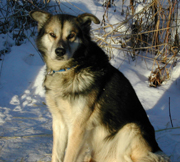 the athletic and picturesque Alaskan Husky breed. That intelligent leader that comes along once in a thousand puppies, Fisher distinguished himself early in is mushing career by showing veteran mushers he had the intelligence quotient to safely guide a musher and his team thought the vast beauty of the Alaska wilderness. As Fisher King matured throughout the last decade of the 20th Century, he repeatedly led teams to completion in such mid distance races as the Klondike 300, the Knik 200, and the Copper Basin 300. Fisher was a leader that did not like to be back in the team, he was always one to work hard to be out front.
Fisher was the personification of a sled dog. Others thought so too. Fisher went blazing on into the 21st century to become the icon for the main newspaper coverage of the Iditarod in Alaska and to have prominent roles in two movies. However not one to be complacent with success, Fisher went on to traverse the Original Serum Run Trail in the footprints of another famous lead dog "Balto" with Col. Norman Vaughn, and then on to complete the Iditarod Trail Sled Dog Race multiple times.
Fisher's most memorable Iditarod Race was with Kennesaw's own and Georgia's first Iditarod Finisher, Bill Borden. Kennesaw residents Bill and Brenda Borden met Fisher King while he was the star of a sled dog kennel tour. Little did either know that in a few short years the quintessential sled dog they met that day would lead Georgia's First Iditarod Finisher across the frozen tundra of Alaska, over the tallest mountain range in North America and into the record books as only the 540th person in the world to complete the 1,151 mile trek.
Upon Fisher's retirement from racing his last Iditarod, Fisher and his teammates, with the help of Bill and Brenda, founded the Cool Dreams Foundation, a 501(c)3 non-profit organization. In his golden years of retirement here in Kennesaw, Fisher continued to do good work in local schools and senior centers, spreading the word that through proper planning, perseverance and Faith anything is possible. Fisher passed away September 2, 2008 at the age of 18 but lives on in the hearts and minds of school children here in Kennesaw and all over the nation though the works of the Cool Dreams Foundation.
Educational placards along Fisher King's new trail will continue to educate and inspire children young and old. Signs along the trail will tell about sled dog racing, the character of sled dogs, the life saving serum run to save the children of Nome in 1925 and why Fisher King and the Cool Dreams team are so important to Kennesaw's children. After a short period for construction, assemblage and installation of the education signage, a dedication of the trail will be scheduled during the Summer of 2009
"Fisher King … He was the embodiment of the indomitable sprit of a sled dog. While he rarely listened, he spoke to my soul." Your contributions, large or small, will help to continue to inspire the dreams of children with the Cool Dreams message.
Thank You,
Bill Borden, Iditarod Finisher
Cool Dreams-The Dream Continues
Bill takes his "Cool Dreams" presentation to schools and civic groups all over the Southeast. The talk can be tailored to most any age group from pre-school up to college age, as well as for church, Scout or business groups. Bill tells of his many trials and tests of Faith as he ventured forth to complete a lifelong dream of racing the Iditarod Sled Dog Race. The power of prayer plays a big part in Bill's story but he tells it with humor and personal detail that keeps all audiences enthralled. A typical Cool Dreams speech includes a PowerPoint slide show of Alaska's beauty, a demonstration of musher gear, seeing the actual sled Bill drove to Nome, meeting a sled dog and a Q&A session afterwards. The overriding theme of the presentation is that through proper planning, perseverance and Faith, anything is possible.
For a presentation in the Atlanta area Bill asks that a $300 donation be made to Cool Dreams, Inc. which is a 501(c) 3 Non-Profit organization, or a $500 donation for two speeches at the same school on the same day. A larger contribution is requested for destinations further outside the metro Atlanta area which require more drive time and more time away from Bill's 'day' job. The Cool Dreams experience can be sponsored by a parent, grandparent or a company and their information can be prominently displayed at the start and finish of the PowerPoint show. Please email to ask how Cool Dreams can inspire your group. bill @ CoolDreams.net
Bill Borden Becomes the First Georgia Resident to Complete the 1,151 Mile Iditarod Sled Dog Race from Anchorage to Nome

14 Days, 4 Hours, 10 Minutes and 14 Seconds
Not too long when you consider all of the mishaps along the Iditarod Trail. Bill Borden, first Georgia resident to complete the 1,151 mile Iditarod Sled Dog Race from Anchorage to Nome, encountered many tests of faith along the way. Only 200 miles into the race, Bill broke his gangline in a crash with a tree on the Happy River Steps, a particularly notorious section of the trail. This left him with only his two wheel dogs, Lookout and Smoke, to push the sled up the incline to Rainy Pass, a distance of about ten miles. The other 14 dogs were reunited with the wheels dogs after about 12 miles of mushing on their own.
The dogs were encountered in a perfect trot crossing Finger Bear Lake by a snowmachiner. After reaching Rainy Pass, Bill realized his back was severely injured in the wreck and was forced to take his 24-hour layover this early in the race. By doing so, some of the volunteers at the Rohn checkpoint assumed that he had scratched and disposed of his drop bags containing all of his food, both human and canine, into the creekbed. This cost another several hour delay getting food sorted from creek gravel in order to feed his 16 hungry teammates.
Sled held together with
wire and hose clamps
The next big obstacle was the Post River Glacier which is about 500 feet of the slickest ice you can imagine. It took Bill and the dogs about an hour and a half, Bill on hands and knees, to inch up this smear of glare ice. In doing do, a runner was cracked on the sled. A second runner was cracked on the Farewell Burn forcing Bill to wire one runner back on and limp into Nikolai on one wobbly runner. Race officials allowed Bill to borrow a sled to make it into McGrath where his back up sled awaited him. Once Bill got all of his gear switched over and began to proceed, he broke another runner and a stanchion on the backup sled. He was allowed to borrow another sled from Lance Mackey, who had scratched, in order to finish the race.
There were many times when, in the face of all of these obstacles, Bill could have given up. He was mentally crushed and in physical pain, yet he continued on to finish the Last Great Race in a decent time. He had even passed several of the back-of-the-pack mushers but lost ground again when he had to walk his lead dog, Fisher King, across some overflow. This only got Bill wet from the knees down but exhaustion at this point caused him to trip over the gangline and go face first into the icy cold waters. Bill mushed to the Nome Kennel Club cabin with Ken Chase where they both took several hours to dry off and warm up.
Bill finished the dream of a lifetime on March 17, 2002 in 14 days, 4 hours, 10 minutes and 14 seconds with 13 happy dogs, becoming only the 540 person in the world to finish the Last Great Race, The Iditarod.
New Book Coming Soon
The adventures of Bill, Brenda and their son, Jordan, in the great state of Alaska will be presented in a book ....coming soon. Register to be able to purchase an autographed first edition copy of the book by sending an e-mail to brenda at CoolDreams.net
More
The debts incurred in this adventure were great and will need to be addresd by Bill's getting back to work as the Broker of High CaliberRealty (770) 405-0445 extension 102.
For more information on Bill go to Borden.pro