Follow the Action Here with Brenda Borden and Bill Borden:
Bill and Brenda are in Alaska this year for the Iditarod 2009 Race. We have several great photographers contributing to the site this year. You can click on the Photo Link above to view these continuously updating photos. Check this page offen for updates.
2009 IdItarod Coverage Starts March 4th, 2009
After a long flight ( all of you Facebook folks got play by play) Brenda was at Vet Check all morning, then lunch with the Idita-Support Group. Now she is off to ANC and the press meeting. Stay tuned here for photos and updates as things for this years race start to heat up.
Thursday was final vet check for the dogs. This was held at Iditarod Headquarters in Wasilla. The mushers come in on the various time slots so there is ample opportunity for visiting, taking photos, seeing old friends and generally getting into the Iditarod spirit. At HQ while I was there were Lance Mackey, Melissa Owens, Mike Williams, Eric Rogers, Hugh Neff, Sebastian Schnuelle (this year's Yukon Quest Champion) and more.
Later a group of IditaSupport members met for lunch at the Windbreak Café in Wasilla. It is amazing how many quick friendships develop in relation to this great event we call The Last Great Race.
The Musher Banquet is always on Thursday before the race starts. This is where each musher draws his starting position out of a mukluk on stage in front of hundreds of fans from all over the world. I believe that I heard there were 1,600 or 1,800 seats and it was all sold out!! Bill was the auctioneer for the night and sold only two items that earned over $24,300 for ITC in less than 15 minutes. Bib #1 signed by many race champions sold first and then an exclusive Bear Viewing Trip for four joined by Lance and Tonya Mackey.
The banquet usually takes hours and hours but a new venue with lots more room and a new procedure made for a much quicker schedule. People even hung around to talk afterwards and that rarely happened in the past as folks would leave to get home early and work with last minute race plans. And the drive home was quite snowy and lots of cars ended up in the ditches with wheels in the air. I think the visitors tend to drive more carefully in the conditions because they do not know what to expect. We were cautious and had a safe trip back to our condo.
Friday
Friday is a day of musher open houses and meet-n-greet type events. Bill drove to Willow first thing to make sure our snowmachines would crank. They have been outside in his mom's side yard for a year since our burst pipes forced us to use the garage as a staging area for our reconstruction project. The sun was bright on all of the new fallen snow and the snow plows have made the conditions for driving much better!

Click Here to find where the 2009 Musher are.
Click a Year for Past Iditarods Coverage and Photos
The 2009 Iditarod Trail Sled Dog Race Starting Positions
1) Rod and Carol Udd (Honorary Mushers)
2) Aaron Peck, Grande Prairie, Alberta, Canada
3) Nancy Yoshida, Thompson, N.D.
4) Ed Iten, Kotzebue
5) Rick Larson, Sand Coulee, Mont.
6) Allen Moore, Two Rivers
7) Warren Palfrey, Yellowknife, Northwest Territories, Canada
8) Rick Swenson, Two Rivers
9) Blake Matray, Two Rivers
10) Ray Redington, Jr., Wasilla
11) Michael Suprenant, Chugiak
12) Jake Berkowitz, Anchorage
13) Ryan Redington, Wasilla
14) Gerry Willomitzer, Whitehorse, Yukon, Canada
15) Paul Gebhardt, Kasilof
16) Ramey Smyth, Willow
17) Jessie Royer, Fairbanks
18) Bjornar Andersen, Elverum, Norway
19) Matt Hayashida, Willow
20) Trent Herbst, Ketchum, Idaho
21) Mitch Seavey, Seward
22) Judy Currier, Fairbanks
23) Robert Nelson, Kotzebue
24) Aliy Zirkle, Two Rivers
25) Hans Gatt, Whitehorse, Yukon
26) Chad Lindner, Brookline, Mass.
27) Tom Thurston, Oak Creek, Colo.
28) Linwood Fiedler, Willow
29) Karin Hendrickson, Chugiak
30) Melissa Owens, Nome
31) DeeDee Jonrowe, Willow
32) Alan Peck, Eagle River
33) Martin Buser, Big Lake
34) Sebastian Schnuelle, Whitehorse, Yukon, Canada
35) Jim Lanier, Chugiak
36) Gerald Sousa, Talkeetna
37) Cim Smyth, Big Lake
38) Bob Hickel, Anchorage
39) Mike Williams, Akiak
40) Bruce Linton, Kasilof
41) Jeff King, Denali
42) Sonny Lindner, Two Rivers
43) Lou Packer, Wasilla
44) John Baker, Kotzebue
45) Laura Daugereau, Port Gamble, Wash.
46) Ed Stielstra, McMillan, Mich.
47) Lance Mackey, Fairbanks
48) Wade Marrs, Wasilla
49) Cindy Gallea, Seeley Lake, Mont.
50) Rob Loveman, Seeley Lake, Mont.
51) Robert Bundtzen, Anchorage
52) Kim Darst, Blairstown, N.J.
53) Sven Haltmann, Willow
54) Ken Anderson, Fairbanks
55) Hugh Neff, Skagway
56) Aaron Burmeister, Nome/Nenana
57) Tim Osmar, Ninilchik
58) Rachael Scdoris, Bend, Ore.
59) Kurt Reich, Divide, Colo.
60) Eric Rogers, Eagle River
61) Jen Seavey, Seward
62) Dallas Seavey, Seward
63) Heather Siirtola, Talkeetna
64) Timothy Hunt, Marquette, Mich.
65) Bill Cotter, Nenana
66) David Sawatzky, Healy
67) Harry Alexie, Bethel
68) Jeff Holt, North Pole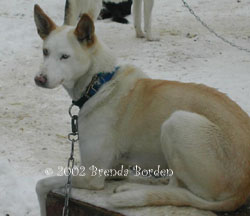 Crystal,